Avoiding Bogus Online Lenders. ?>
Avoiding Bogus Online Lenders.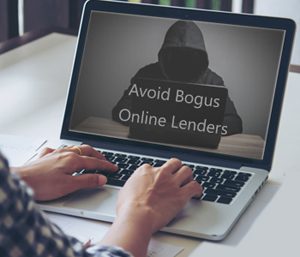 Technology is unbiased. Anyone can use it in any ways possible. Using it in a constructive or destructive way is a personal choice. Technology has made our life easy but it is the same technology that has paved the way for online frauds. With growing popularity of online loans, many fraud lenders have made a strong place on the internet. These fraud or bogus lenders act as genuine lenders to extract the money from the customers. Therefore, it is very essential to filter the genuine lenders from the hoax lenders.
Payday loans online are unique because of the mode of convenience and the speed at which the money comes to you. The entire loan processing takes place online and the money is deposited in your account through electronic funds transfer. Although it is a very secure transaction, certain inevitable and unfortunate events are doing the rounds. Many individuals are getting a hoax mail or a hoax call from a person in disguise of a genuine lender. These are generally called as fraud. These fraud e-mails are sent to many in order to extract some money from the customer. They address themselves as a representative of genuine lender and warn you that you will be sued if the money is not paid. Most, often, the amount in discussion will be repayment of the loan that you have never taken. Payday loan lenders generally do not send such repayment notices and if you receive one then it means a fraud.
Whenever, you receive such threatening call from individual posing as payday loan representative, note down the caller's details but do not give away your information in phone or e-mail. Once you clink on the link in the fraud e-mail that will lead to a third party link. Therefore, beware of such e-mails and calls. Realize that any genuine lender will not ask for your personal banking information through phone or e-mail.