How to Get a Payday Loan Quickly when in an Emergency ?>
How to Get a Payday Loan Quickly when in an Emergency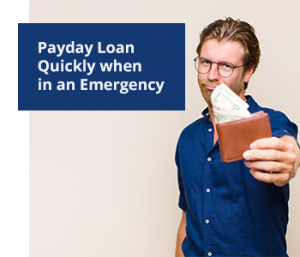 Emergencies can strike anyone. Oftentimes, people today need financial support to handle situations of emergency. Much of this is due to the modern lifestyle in which living in the moment is by some, considered integral. But with such lifestyle changes, also come complementing changes in the market. Today's lending market has ample options for people looking for quick ways to borrow money. Some of these are reliable and don't need a pre-existing relationship (or account), and such options tend to be considered suitable for emergencies.
Are There Payday Loans Designed for Emergency Use?
Many payday lenders in the market claim to offer "emergency payday loans". Some of these are indeed designed to be fast and available for first-time users, making them fit for emergency use. Other qualities that various lenders may offer, that are likely to make payday loans suitable for emergency borrowing include:
Easy loan application process
Fully online processes that can be accessed from anywhere
No hard credit checks
Acceptance of all credit scores
Instant approvals for verified eligible borrowers
Quick loan processing
Direct deposits of approved loans
No third-party involvement making processes more transparent and free of third-party delays
At EZPaydayCash, we are a direct lender offering all the above features and more. Depending upon your state of residence, you may be eligible for payday loans of up to $1,500 through our services, which you are welcome to make use of, during emergencies.
How Quickly Can I Get a Payday Loan?
Unless you have a pre-existing relationship with a traditional lender that enables instant loans, such as a credit card with an available cash advance limit, chances are that the quickest option to get a significant amount of money reliably, no matter what your credit performance is, is likely to be a payday loan.
At EZPaydayCash, we have worked to ensure a quick and friendly process of payday lending. With us, you can get a payday loan approved in just a few business hours and if everything is in order, it takes virtually no time for us to process a direct deposit of funds once you accept our offer. Do keep in mind, however, that your bank may take time in processing our deposit for you to be able to use the funds.
What Can I Do to Get a Payday Loan Approved & Credited Quickly?
Apart from your lender, efforts from your end can also help quicken the payday lending process. These simple steps are likely to help you get a loan faster
Keep details and documents ready
Ensure all documents are available as clear scans rather than clicked photos
Provide easily verifiable details and documents that are authentic and complete
Choose online loans from trusted direct lenders over brokers, store-based lenders, and scrupulous online lenders
Stay reachable on the contact modes you provide
Read and accept the loan offer promptly after receiving it
Initiate your loan application at the earliest time that you conveniently can.
Apply for an Emergency Payday Loan Right Away
Looking for an emergency loan? EZPaydayCash is here for you. You are welcome to apply right away and our team shall work towards providing you the funds you need, at priority. Simply hit the "Apply Now" button, fill up the online application form and submit the details we require. After a brief pre-verification, a customer representative shall be in touch with you to work towards a suitable loan offer.