How to Use Direct Lender Loan for Credit Score Improvement ?>
How to Use Direct Lender Loan for Credit Score Improvement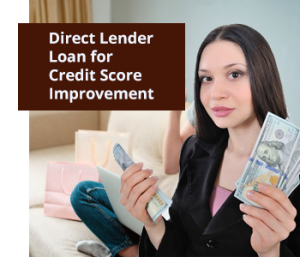 Many of us have a bad credit history, score or both. Today, roughly half of the population across the nation has a credit score that is considered unhealthy. From making loans expensive to making house rentals higher, a bad credit score can have various impacts on your daily life. So, improving your credit score can be useful for you.
It is already a known fact that some people use direct lender loans to heal their credit score. But, does it always work? If not, what must one know, in order to be able to ensure that it works for them? Before we get into that, let's first take a quick look at ways in which a bad credit may impact your life, so you can see if it is really important to work on improving your credit score.
How a Bad Credit Score May Impact Your Life
Risk for Lenders – If you have a poor credit score, it will certainly reduce the credit options available to you. Most of the mainstream lenders would be out of the question. Some non-bank direct lenders might be the only choices available to you. Since it would generally be considered riskier to lend to you, the lending rates shall be higher, which means that any credit product that might be available to you, might be rather expensive.
Insurance – Most insurance premiums would go up. Some insurance options may simply not be available for you. Some states however, ban some forms of credit-based insurance scoring.
Career Opportunities – Some career opportunities and promotions to certain designations may get impacted by your credit score. While a complete hard credit check may not be something that your employer uses, a soft credit check that only reveals limited information, is known to be used by employers while promoting or recruiting people for certain critical job roles within their organizations.
Renting an Apartment – As per Experian, a credit score of 620 or above shall be required in order to be able to qualify for renting an apartment.Some managements may make even more stringent requirements. Some might accept you otherwise too, but it is generally going to be harder to find worthy options, especially without excess security deposits.
Utilities – It is also often the case that utility companies seek more security deposits and/or are more stringent in terms of their requirements of guarantors, co-signers, documentation etc. when offering their services to bad credit score holders.
Apart from these, there are the indirect impacts in your life that one or more of these may lead to, for example, your ability to be able to build wealth over time may get impacted as a result of a combination of some of the above factors.
Working on Your Credit Score Using a Direct Lender Loan
At EZPaydayCash, we as a direct lender, welcome loan applications from borrowers even if they have a bad credit score. We consider income as a primary way to assess loan eligibility. Some borrowers do use our loans to work on their credit score.
We advise any borrower with a troubled credit history or a low credit score, to seek professional credit counseling. However, we do believe that anyone using a direct lender loan from us or a service like ours, must keep certain points in mind, even if a credit counselor is already guiding them through such a plan.
Check Your Credit Reports Thoroughly – It is not absolutely uncommon for credit reports to feature missing or faulty transactions. This leads to inaccurate credit scores. If you find a fault in your credit reports, it is essential to first have it rectified. It is rare that this happens, but it can be that your low credit score is low because of an error and if so, that needs to change before you consider a loan.
Calculate to See if Credit Score can be Improved by a Loan – Calculating exactly what impact a loan and the timely repayment of it can have on your credit score, may not be too easy. However, not being sure if the impact will be significant is often the reason why some individuals fail to impact their credit score even when they take a loan and repay it on time. The expertise of a credit counselor could be important in helping you ascertain whether the loan you seek to procure and repay, shall have a significant positive impact on your credit score or not. Unless you are sure, you must seek the right counseling prior to applying for the loan.
Know your Repayment Ability – Only take a loan that you are very likely to be able to repay. If you have a bad credit score, chances are that your understanding of the credit system somewhere, could have gone wrong. However, you must know that if you fail to repay a loan which you took with an intention to improve your credit score, you could end up further damaging it instead.
Inform Your Lender that You Need Credit Reporting – If you're looking for a direct lender loan while you have a bad credit score, your lender is likely to offer you a loan which doesn't affect your credit score. Such a loan doesn't get reported to credit rating authorities as such. If you are taking the loan with the intention of healing your credit score, you must inform your lender that the loan repayments need to be reported. Some direct lenders may restrict such options to registered or frequent users for various reasons. You much hence check for such options prior to completing a loan application.
Communicate with Your Lender – Should anything go wrong at any stage, you must first communicate with your lender and seek further guidance. Most of the trusted direct lenders would be able to assist you with your queries and guide you in the right direction.
Consider Loans with Multiple Installments – Loans with multiple installments typically work better for those who wish to use loans for improving their low credit scores.