How to Build a Good Credit Score? ?>
How to Build a Good Credit Score?
You Want a Good Credit Score!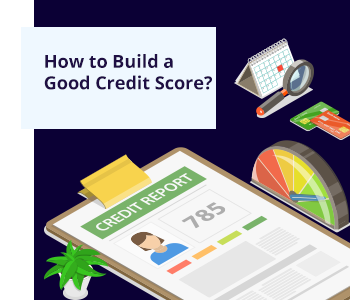 Suppose you want to take out a loan to fulfill your daily business needs, for some emergency medical expenses or for other personal purposes, and to do that, you approach the bank. You provide details and submit the application, but the bank doesn't approve your loan request. There is a high chance that it happened because of a bad credit score.
So why is a good credit score important? It helps the lender determine whether you, the borrower, can repay the loan on time or as per the agreed terms without any hassle. If yes, you can avail of a loan with ease.
How Important is a Good Credit Score?
A good credit score plays a critical role in helping you achieve your dreams. The better the credit score, the greater the chances you get the loan approved. Although it doesn't ensure you will get the amount of loan you desire.
A credit score is a numerical number ascribed to you based on the information available in your credit report. A credit report is prepared by a relevant credit reporting agency based on the information collected from various sources, including banks and financial institutions and collating it with your credit history. Typically, a credit score is ascribed to an individual in the range of 300 to 850.
The credit score between 580 to 669 is considered fair, the ones between 670 to 739 are deemed suitable, the ones between 740 to 799 are considered very good, and those over 800 and above are accorded excellent status. So, if you have a good credit score, you are more trustworthy as a borrower, as per the credit rating agency, and are highly unlikely to default on your loan repayment.
What If You Don't Have a Good Credit Score
As shown above if you have a credit score below 580, it means you have a bad credit score. A bad credit score means that you won't be able to secure a loan from traditional lenders like banks. In that case, you can look for alternate options and still avail of loans. Many lenders can provide you with short-term cash advances or payday loans.
We at EZPaydayCash, as direct loan providers, can offer short-term loans to borrowers like you, even if you have a bad credit score.
How Can You Build a Good Credit Score?
You can build a good credit score from scratch if you like. However, it can take anywhere from one month to six months to one year, depending on the type of credit score you want to achieve in the long run. If you pay your bills on time and don't stretch your available credit limits on the credit card, it can help build your good credit score. It would be best to be careful not to miss out on your loan or credit card installment. If you do, it will result in a downgrading of your credit score.
As such, building a good credit score depends on five different factors, namely: –
Payment history – 35%
Credit utilization – 30%
Credit history length – 15%
Credit mix – 10%
New credit – 10%
You can build a good credit score by doing the following things: –
1. Use credit-building products

Get yourself a credit-builder loan or a secured credit card to bulk up your credit history.

2. Become an authorized user

To become an authorized credit card user, getting in touch with someone with a good credit score can help. Getting recommended as an authorized user to credit bureaus or card issuers can help build your credit score.

3. Learn how credit scoring works

Know factors that help build your credit scores. Figure out what is within your power to build a good score.

4. Keep the good work going

It would be better to have a pretty good credit score backed by consistent on-time payments. Setbacks can occur, but take measures to rebuild your healthy credit score.

5. Remove incorrect information

Take measures to remove incorrect and harmful information from your credit reports; that is very unlike you to create a healthy credit report.

6. Start using a secured credit card

If you have a low credit score, use a secured credit card. It requires you to make an initial deposit to get a loan or credit. It helps boost your good credit score by generating a history of responsible use. Also, research better credit options to suit your financial needs.

7. Prepare a payment report

You can make regular payments on your loan or credit card payments. But opting for an alternative reporting service can boost your credit history.
Despite all your best efforts, if you still suffer from a bad credit score, the next best option is to apply for an online payday loan for up to $1000 from lenders like EZPaydayCash today.