Can College Students Get Payday Loans ?>
Can College Students Get Payday Loans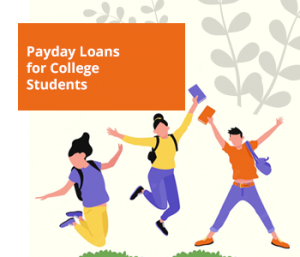 Not everybody finds it easy to get loans from traditional lenders. People who apply for short-term cash advances with these lenders, often get rejected due to the considerably low interest rates charged on these loans. Also, individuals with bad credit can find it quite difficult to get loans from traditional lenders, given that they majorly rely on credit scores. A good credit scorer is generally welcomed with open arms, while people with bad credit on the other hand usually face the opposite.
It is due to such reasons why borrowers look for alternatives, in order to get small cash advances that can help them deal with an emergency or help them get through the month with ease in case they need some extra cash.
It is quite easy to get a payday loan for most people. Considering the fact that these loans aren't provided on the strict basis of borrowers needing to have perfect credit, they come with terms that are comparatively easier to fulfil. However, when we say that payday loans are easy to get by most people, do we include college students in the list?
Can College Students Get Payday Loans?
"College" is a term that is used rather liberally, with most people considering it to be the education institution they study at to pursue a degree or a diploma, and others- high school. Depending on what you refer to as college and why you've chosen to google this title, the answer you're looking for shall be different.
Payday Loans for College Students of 11th and 12th Grades- High School
Majority- in fact all- payday loan lenders do not approve requests of those who are under the age of 18. While taking that fact into consideration, it is safe to say that students of grades 11th and 12th, cannot be granted payday loans since majority of them aren't yet adults. However, exceptions always do exist and if you're one amongst those students who may be a year or two older than your classmates, you may be able to receive a payday loan. However, even if you're a high school or 11th/12th class going college student and are 18, you will have to, without a doubt, fulfil the other eligibility terms laid down by your lender, including having a stable monthly income.
Payday Loans for College Students- Degree/ Diploma
If you're a college student pursuing a degree, you're in most likelihood at least 18 years of age if not older. You therefore meet the first criteria of being eligible to apply for a payday loan with a lender. However, this doesn't mean that you can get it with no more eligibility terms to fulfil.
Apart from being 18 or older, you will need to have a checking account and a stable source of income which can be proven to your lender. Fortunately, the United States sees a ton of youngsters and college, as well as school-going students take up part-time jobs after college hours, which can help them get a loan. Most lenders shall ask for your income statement or pay stub which serves are surety of being repaid. A stable income is what they rely on, as proof of a borrower being capable of repaying his/ her loan.
Also, most youngsters who turn 18 in the States choose to live an independent life away from their families. They therefore choose to take up jobs alongside their education, and if you're one amongst them, you can certainly receive a payday loan as long as you can prove to have a stable monthly income.