Payday Loans are Not Difficult to Repay- Here's why! ?>
Payday Loans are Not Difficult to Repay- Here's why!
You may have heard of people who take payday loans to receive the large number of benefits they offer. However, these loans do come with the reputation of being difficult to repay. But is that the truth or is it just a myth? Let's address the same in this article.
Why Are Payday Loans Beneficial?
If you choose to opt for a payday loan, here are the benefits that they offer: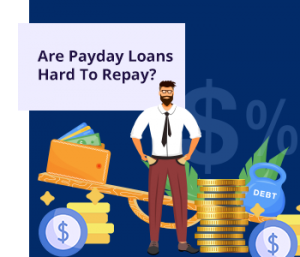 24 hour transfers: The first and foremost benefit of a payday loan is the fact that they come with 24 hour transfers. Since lenders who offer these loans do not believe in conducting time taking procedures in their approval process, it speeds up the process thus allowing them to transfer funds as soon as possible. This in turn helps you cater to your monetary need as fast as you can without causing much of a delay in your problem.
No hard credit checks: The truth about hard credit checks is not only that they reduce your chances of getting a loan, but the fact that they cause a reduction in your credit rating also exists. Payday loan lenders do not conduct hard credit checks since conducting hard credit checks are time-consuming, thus defeating the purpose of providing funds immediately to borrowers. That's why, some may either conduct soft credit checks or no credit checks at all, which not only saves time but also increases your chances of getting funded when you need it the most.
24 hour access: Payday loans can be availed online as well as at a store. If one chooses to apply online, they get to apply at a time that suits them the most over visiting their lender during opening hours, thus missing out on other important tasks of the day.
No collateral: When you choose to apply for a loan with a traditional lender you may be aware of the fact that they require you to provide collateral, in most probability. However, that isn't the case with direct lenders providing payday loans since again, processing collateral is time consuming which is why they choose to avoid the same.
Are Payday Loans Really Hard to Repay?
The one and only downfall of a payday loan is that they can be hard on the pocket when it comes to the time of repayment. That's because these loans are meant to be repaid in lump-sum and to repay them as a whole can get difficult. However, there are always options that most online loan lenders offer, in order to make things easy for their borrowers.
Extensions/ Rollovers: These are an option given to borrowers in order for them to extend their date of repayment in case they need more time to repay their payday loan. However, most lenders do request their borrowers to let them know about the same, well in advance. This can be a useful option if one hasn't received his/her salary yet, or if he/she needs to cater to another emergency before repaying the loan.
Payment in Installments: Many online loan lenders offer the option of repaying a loan in installments instead of repaying the same in lump-sum. This makes it easier on the pocket than it otherwise would be. Installment loans allow borrowers to repay their loan in parts over time (for small cash loans it's usually 3-12 months), thus making every monthly repayment very little and easy to repay while also allowing the borrower to cater to other necessary expenses.