Can People with No Credit Score Get Payday Loans? ?>
Can People with No Credit Score Get Payday Loans?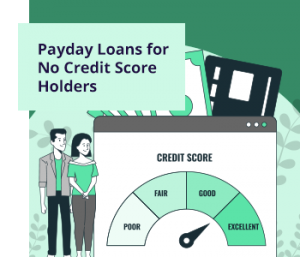 No credit score holders are plenty. Firstly, everyone who has just turned 18 has no credit score since they are eligible to apply only once they turn 18. Secondly, there are many people who don't take loans for a long time after they turn 18 and a few years down the line may need one in order to sustain or get through a difficult phase of their life.
However, unfortunately not all lenders offer loans to no credit score holders since they may not be sure about whether or not they will be repaid. However, having no credit rating isn't as bad as having a bad one and some lenders may offer loans to those with no credit history at all.
Lenders who in most likelihood shall provide funding to those with no credit rating are direct loan lenders. There are quite a few reasons for the same.
One reason is that they do not conduct credit checks. That's because they choose to speed up the approval process which cannot happen if they choose to conduct a hard credit check.
Secondly, they rely on one's income statement which if is a stable one on a monthly basis, they shall approve. Once proven that you have a stable monthly income, there shall be no problem with funding you.
Here is what majority direct loan lenders may ask you for in order to offer funding to you, irrespective of whether you have good, bad or no credit score at all:
Your Social Security Number
Your income statement
Your checking account details
Your age proof
As long as you meet the above mentioned requirements, it shouldn't be difficult for you to get funded even if you have bad credit.
This is an advantage that most no credit score holders receive from direct loan lenders, which they do not get when they opt for a traditional lender. Traditional lenders depend on one's credit rating instead of their current financial situation in order to provide them with funds, which can be the result of a lot of reasons including their previous lender updating their repayment date later than what it is. So, a lot of time, for no fault of theirs, borrowers end up with bad credit scores.
Fortunately, direct loan lenders do not believe in considering the past of a borrower and instead rely on their present situation which is why they offer loans to both bad as well as no credit score holders.