Payday Loan Offers to Stay Away From ?>
Payday Loan Offers to Stay Away From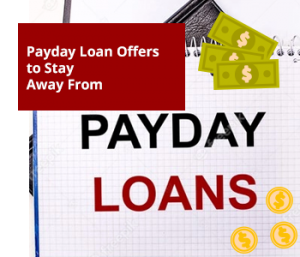 We all know that payday loans are typically used under pressure – people taking out payday loans are often in a hurry and the need is rather immediate, such is the nature of the loan. Under the pressure and stress that a situation may throw upon a borrower, there tends to be a higher chance of making a bad decision. Some lenders can take advantage of this pressure that the borrowers tend to face, and craft traps which the borrower can fall prey to. One of the ways in which such lenders try to trap borrowers, is by luring them in with offers that seem to be tempting. When a payday loan offer seems to be too tempting, it must be seen with scrutiny.
Payday loans are expensive and they need to be that way given the high risk that's associated with the loans. In almost every case, if a payday loan is seeming to be cheap, it is likely to be falsely advertised or portrayed. Chances are, that:
The offer is false or misrepresented
The offer has significant hidden terms and/or lacks transparency
The lender is illegitimate or is making illegit claims
In either of the 3 potential scenarios, it is best to refrain from giving into the temptation of the offer and instead choose a trusted and reliable payday lender that offers a safer and legit payday loan.
In today's article, we discuss some payday loan offers that are very likely to be designed as a trap or are simply illegitimate offers that may also have hidden terms that significantly impact the loan. It is best to stay away from lenders and loans which feature offers that are the same or similar to one or more of these.
Payday Loans with No Interest
If a lender claims to provide a payday loan with no interest, one of these is likely to be true:
There is a fee applicable but no disclosed interest rate. The fee effectively is what you pay for the loan. Nonetheless, you end up paying for the loan and chances are that this amount is higher than what other lenders may charge in the form of interest.
The offer is simply false and the loan/lender is illegitimate.
In either case, it is advisable to stay away from any lender that offers such a deal. Oftentimes, borrowers figure out that something is likely to be wrong and report such issues. Reporting any such issue that is likely to indicate an offer as false or deceptive, is a good way to help make lending cleaner and safer for everyone.
Payday Loans with for Unemployed with No Verification and No Credit Check
Personal loans are intended to serve as financial instruments which provide funding to an individual and are issued against future repayments which need to be supported against a collateral or a personal guarantee. In any case, the loan must be secured via an income or a valued collateral. Payday loans cannot be given out against a valued collateral – they can only be given out on a personal guarantee i.e. the borrower must guarantee repayment of the loan. If a loan is being given out to an unemployed individual, there must hence be a verification to ensure that the individual has an income to support the repayment of the loan. Otherwise, taking such a loan is likely to be a disastrous financial decision.
If a lender offers a payday loan for unemployed individuals that features no such verifications of income and no credit checks, it is very likely to be a false offer or one that is highly unsafe.
Short Term Loan with First Month Installment Free
A very popular scam of the early 2000s offered short-term loans with the first month free of installments – and offers like these are still not uncommon and are something you're likely to see in your spam mailbox. Short-term loans are designed to get you funds with relative ease and also rid you off your debt in a short period of time – typically 3 to 12 months. Typically, when one month's installment is "free", the interest is still applicable and you eventually have to pay the amount – chances are, that you end up paying more because you're paying later and more interest on the outstanding principal amount is being accrued. The exact terms of such loans are often designed to hide the obvious flaw in the offer. Hence, most such loans lack transparency, legitimacy or both.
Illegal Payday Loan Companies
There are many licensed direct lenders that offer payday loans with legitimacy. However, there also exist illegal payday loan companies or lenders, who more often than not, operate in illegitimate ways and can pose a threat to financial safety of everyone that deals with them.
It is illegal to make a loan offer without a license. If someone makes you a loan that's illegal, either because they don't have a license or they violate usury laws, you're not under any obligation to pay it back. Keeping this information in mind can be essential and you can keep yourself safe by knowing this truth about lending.
The best way to steer clear from illegal payday loan companies is to choose your lender wisely.
Stay Safe with Online Loans
One of the easiest ways to stay safe while choosing a lender for your payday loan, is to choose an online lender. Here's what you can do:
Choose an online lender with ample reviews and testimony that backs the service's legitimacy.
Check to ensure there are valid contact details available on the website
Avoid lenders that present offers that seem to be suspiciously good
Browse through the services and the website and avoid the lenders who do not own a well-constructed website
Only accept the loan offer after you fully understand it.
Get a Payday Loan from a Trusted Direct Lender
When in need of a payday loan, an easy way to secure one for yourself is to choose EZPaydayCash. With us, you can rest assured that you'll receive a legitimate offer from a trusted direct lender. Simply apply with us directly, and with no brokerage and no suspicious offer, what you get is a transparent solution for your short-term financial needs.