Holiday Loans the Right Choice for Me Or Not ?>
Holiday Loans the Right Choice for Me Or Not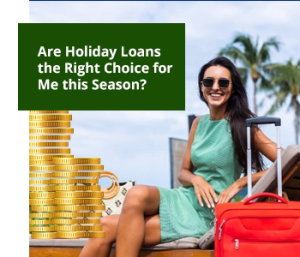 The holiday season is just around the corner, and we are as excited as you are! We are eager to celebrate it with our near and dear ones, and we're sure you are too. However, if you need more funds to do so, it can be a problem.
But don't worry, since we are here to help! We offer funds to those who need them during the holiday season to help them celebrate it just the way they want to. So now, if you wish to travel to your family, host a party for your friends or buy presents for your relatives, you can do so with our holiday cash loans.
Can I Get a Holiday Loan With a Bad Credit Score?
Indeed you can! We offer funds to bad credit holders along with everyone else. We provide funds to everybody irrespective of their credit rating. So, if you have a good, bad, or no credit rating, we shall offer funds to you. We do not conduct hard credit checks since they are time-consuming. So considering your credit rating to fund you is completely ruled out. You can now rest assured that you shall be financed even if you have a bad credit rating, and cherish the holiday season without worrying about having bad credit.
Are Holiday Loans Unsecured?
Yes, we offer loans that are unsecured to all borrowers. Even if you have bad credit, you can get a loan from us without offering collateral. All you have to do is meet our basic eligibility terms after which you shall be granted a loan, despite having bad credit and without having to offer collateral or security of any sort.
You can now enjoy your holidays without worrying about having to give something up just to get a loan of a few hundred or thousand dollars. Our simple eligibility terms make it easy for almost every individual to get funded in the blink of an eye.
What Are the Eligibility Terms to Get Holiday Loans
The eligibility terms of ours are very easy to meet for every individual irrespective of their credit rating. They include:
Being at least 18 years of age or more in order to get funded by us.
Having a valid checking account
Proof of income
Providing your Social Security Number
Providing us with verifiable contact details
Get Quick Holiday Payday Loans from EZPaydayCash
Yes, that's right! Now to get a holiday loan you don't have to wait for days. You can get it in just 24 hours from us even while having a bad credit rating. All you have to do is fill out our very simple and quick application form, attach soft copies of the simple and basic documents that we ask you for and submit your application. After that we shall instantly approve your request for a loan as long as we receive all the required documents. Once we approve your loan, we shall transfer funds immediately which shall reach you within 24 hours (or 1 working day) depending upon the policies of your bank.