This is how Our Loans are helping People with Bad Credit ?>
This is how Our Loans are helping People with Bad Credit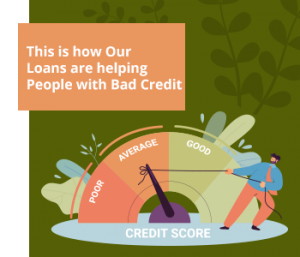 Short-term loans from direct lenders are one of the very few ways in which bad credit borrowers can acquire funds. At EZPaydayCash, we serve as a direct lender offering short-term loans that are made available to borrowers via our simple online platform that can be accessed round-the-clock from virtually anywhere that the internet reaches!
Borrowers with bad credit scores have been using our service for over a decade and taking advantage of the promptness, reliability and support that we provide as a part of the short-term financial solutions in the form of both – payday and installment loans. The various features and advantages that our loans offer, make them useful in many ways and even help borrowers at times of emergency financial needs.
Features of Our Loans
EZPaydayCash offers short-term payday and installment loans at affordable rates of interest, and here are some of their features:
24/7 Access
24 Hour Transfers
Bad Credit is Accepted
No Collateral is Needed
Basic Eligibility Terms
Online Applications
Payday Loans and their Advantages
Even though they come with interest rates that are comparatively higher than that of traditional loans, payday loans without a doubt have a number of advantages to offer.
Payday loans are short-term loans that are transferred to a borrower in as little as one day. Unlike traditional loans, payday loan lenders do not include time-taking procedures in their approval processes, which makes it easy for them to approve loan requests almost immediately.
In order to borrow a payday loan from an online direct loan lender, one doesn't have to step out. They can apply at any time and from anywhere according to their convenience.
Payday loans are very easy to be approved for. One doesn't have to have perfect credit or offer collateral in order to get funded by payday loan lenders.
Installment Loans for Bad Credit and their Advantages
Many people prefer choosing payday loans over installment loans when they need quick money, since they are easy to apply for, don't take up much of one's time and are transferred quickly. However, one downside that a few borrowers face by taking a payday loan is the fact that they are supposed to repay these loans in lump-sum on their next consecutive date.
However, at EZPaydayCash, we choose to make life easy for our borrowers by offering short-term installment loans for bad credit. The advantage of applying for such loans is that they come with every benefit that payday loans have to offer including the fact that they are given to bad credit holders as well, along with the benefit of having to repay them in parts over the course of a few months.
So, if you think that taking a payday loan will be stressful on your wallet when the time comes to repay it, opt for an installment loan instead.
What Bad Credit Borrowers use Our Loans For
If a person has bad credit, getting funded by a trusted source becomes all the more difficult. However, at EZPaydayCash, one can rest assured to get funded by a legitimate online loan lender, even if they possess a poor credit rating. Our bad credit loans can be used for a number of reasons including:
Paying off bills
To get through the month
To address an emergency
Debt consolidation
To repair a vehicle
Repairs for your home
How Online Direct Lender Loans Help during Emergency Needs
Emergencies do not come with a warning, which means that one cannot prepare for them beforehand. Whenever an unexpected situation does come across, in most situation, funding is required. Be it a medical emergency, the need to suddenly travel or if your car breaks down, you will need some extra funds to cater to such situations if your savings aren't enough to assist you financially.
In such a situation, running around from store to store applying for loans isn't the solution since that will only take up a lot of your time and delay the matter at hand. Instead, applying for a direct loan from an online loan lender can be beneficial since lenders like us assist you in such times of need.
Firstly, you don't have to visit a store in order to avail a loan from us; everything can be done online itself. Secondly, we offer funds within just 24 hours after application as long as you meet our basic eligibility terms.
Get a Quick Loan despite Bad Credit Scores
Having understood the ways in which our loans are helping people with bad credit scores, you may be considering the next step – the loan application. Applying for a loan from us is a quick and friendly online process. Simply proceed to the loan application, and it allows you to share all necessary details for the loan process to begin. Shortly after, a customer service expert from EZPaydayCash shall be in touch with you to offer you a quick loan for which your bad credit scores are no hindrance.